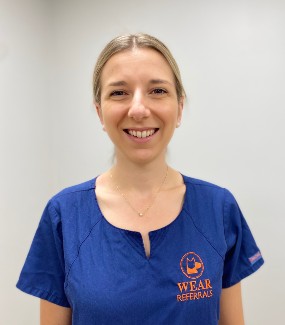 Chiara Giannasi
Veterinary Clinician - Internal Medicine
BVMS MRCVS
Chiara graduated from the University of Glasgow in 2011 and completed a rotating internship at Vets Now Referrals, Glasgow, before becoming a senior emergency veterinarian at the hospital.
She completed her specialist training in internal medicine through a three-year internal medicine residency programme at Dick White Referrals, Cambridgeshire and has passed the first of two sets of examinations necessary to become accredited as a specialist.
Following her residency, she worked for more than two years at Cave Veterinary Specialists, Somerset, as a clinician in internal medicine. She joined the team at Wear Referrals in 2018.
Chiara's current interests include pancreatitis, oncology and all aspects of emergency medicine. She has published journal articles and lectured nationally and internationally on various aspects of internal medicine.