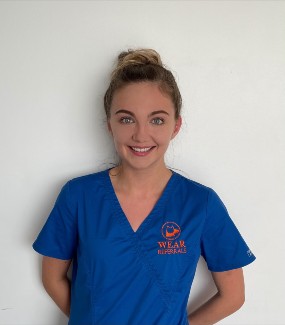 Charley Humphreys
RVN
"I've been a RVN at Wear since May 2019. I find neurology, both spinal and brain disorders, so interesting! I've learnt so much since being on the team and I love the fact that as a nurse, I am able to see patients recover and go home, knowing I've been part of the process to get them there. My favourite part of my job is the anaesthesia and theatre side, as I like the challenges it provides me with and feel as though I am constantly learning and becoming a better nurse because of it.
I love the fact that at Wear, I am constantly given the opportunity to be able to improve my nursing knowledge and skills. I'm part of a large team of highly skilled specialist vets and nurses who all work as a big family and give each other advice and comfort! Our job can be stressful at times so I love having my team there to help when it's needed!
I've also recently been enrolled and began studying on the Linnaeus Referral Nursing Professional Development Programme in Anaesthesia & Analgesia RNPD (A&A). It's been very interesting so far and I've thoroughly enjoyed it and learnt a lot.
Being Essex born, outside of work, I enjoy exploring the beautiful walks the North East has to offer.
I enjoy socialising with friends and often take my rescue dog Monty on hikes and walk with my housemate, who is also part of the Wear team, and her dog Ava."