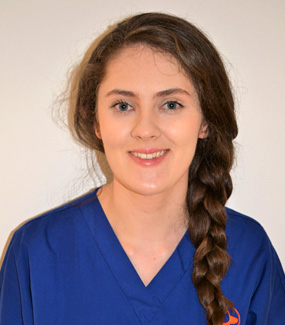 Rachel Potts
RVN
Rachel Potts is an RVN in the soft tissue department. Rachel has been at Wear for five years, starting out as an auxiliary nurse. From the moment a patient steps through our doors, to returning them home to their families, Rachel is on hand to help with the recovery process.
Rachel enjoys working alongside a compassionate team, working on a variety of cases, from patient care in wards to general anaesthesia and assisting with surgeries in theatre.
In her spare time, Rachel enjoys photography and exploring new places. She has two cats, Tilly who is 14 and Primrose, who is four.
Rachel adopted Primrose from Wear when she was only five weeks old. She was brought in as a stray after she was been found at the side of a road with fractures to both her femurs. She underwent surgery to repair the fractures before going home with Rachel to begin her recovery. Four years on, Primrose is a lively, mischievous cat.