A kitten found dumped in the street and taken in by vets has been given a new leases of life thanks to treatment by our fantastic team.
We treated a tiny black kitten, Elf, when he was handed to a vet in Scarborough after being found under a hedge and kept by a member of staff there, who noticed a sudden onset of left hind lameness.
Little Elf had found himself in his owners' kitchen when a glass was accidently dropped on the floor. Despite immediately cleaning the kitchen area, his family noticed the following day he was hiding under his bed, while there were spots of blood on the floor.
After being rushed to his primary care vet and given first aid treatment, Elf was referred to our experts at Wear, where he showed typical limb position for an Achilles tendon injury, clearly brought about as a result of the domestic accident.
With only a small wound showing over his calcaneal tendon and his digits positioned flat on the ground, Elf was taken into our operating theatre where orthopaedic surgeon Maciej Krukowski carried out an exploratory procedure which revealed that incredibly both of Elf's tendons had ruptured.
After repairing both of the kitten's damaged ligaments, Maciej inserted a screw and external skeletal fixator to ensure the kitten's limbs stayed secure to allow the injury to heal properly.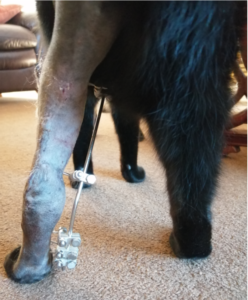 Elf was discharged from the specialist-led hospital the following day and after recovering in his cage at home, Wear's Maciej removed the screw and fixator six weeks later.
After making a super-quick recovering from his operations, Elf was able to get back on his feet and enjoy life outside again a week earlier than planned.
He's certainly enjoying his new lease of life after catching a mouse on his first day back in the great outdoors and his owners report that being raised with two Labradors, he is acting increasingly like one!
The orthopaedics service here at Wear Referrals is led by Neil Burton, an RCVS specialist in small animal surgery, alongside Mark Gosling and Laura Homer who have both completed ECVS residency training, and Maciej Krukowski.