Three team members are putting their best feet forward to raise money for charities by taking on the Great North Run.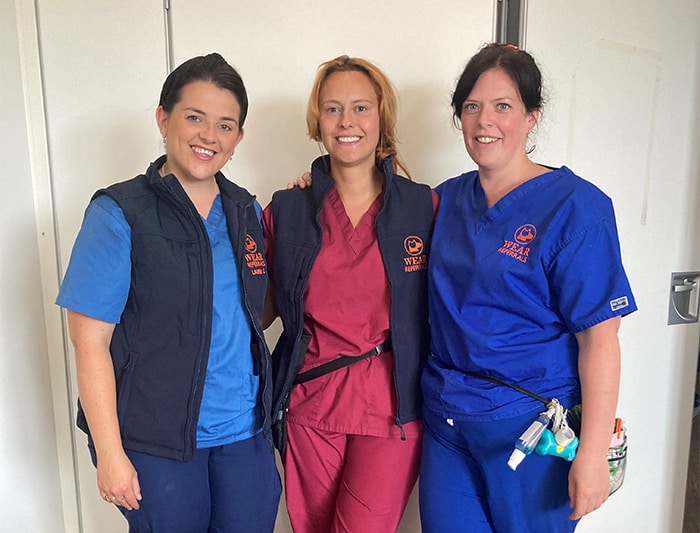 Anouska Rogers Smith, Lauren Cook and Roxy Thompson have teamed up to support each other through their first half-marathon on Sunday, September 11, in order to raise vital funds for two charities.
Both clinical nursing manager Anouska and patient care assistant Lauren will be running to raise money for north east charity Wag & Co, which enables volunteers and dogs to befriend older people who may no longer be in a position to own a pet but miss canine companionship.
Meanwhile, stock control assistant Roxy is running in aid of the Epilepsy Society, a cause close to her heart following a family bereavement.
Roxy said: "The Epilepsy Society is very close to my heart as I lost my cousin Johnny to epilepsy almost 12 years ago.
"I have wanted to do the run for a long time but never had the confidence to do it alone. I'm really excited to be taking part with the girls and was inspired by the fact I'm now the same age as my cousin was when he died, so I feel the time is right."
Anouska, who has worked at Wear Referrals for nine years, said the trio were all apprehensive but excited about taking on their first half-marathon.
She said: "I only really started doing a bit of running during lockdown, so I'm very new to it. Training has been going OK though and we've been on a few longish runs together.
"It's great to be able to take on the run with Lauren and Roxy, as we're a great support for one another and I really don't think I could do it without them!"
Lauren added: "I've always enjoyed running but never thought I would consider running 13 miles!
"Training has been amazing and I genuinely couldn't do it without Anouska and Roxy. We are up to 10 miles now and I am so proud of us all.
"Running for Wag and Co means a lot to me, as I know how much joy they bring to so many people. The kind of happiness I get from my own dogs is priceless and to share that with everyone who needs it really is amazing."
The team at Wear Referrals have a longstanding relationship with Wag & Co and Anouska said she was proud to be raising money to help the charity continue its important work.
She said: "I think Wag & Co is a fantastic charity. Personally, I could not imagine life without a dog and the fact elderly people who can no longer have a dog still get the opportunity to spend time with them is absolutely priceless."
To sponsor Anouska and Lauren in their fundraising mission for Wag & Co, visit https://greatnorthrun.enthuse.com/pf/anouska-rogers—smith-740b9.
To support Roxy's fundraising for the Epilepsy Society, visit https://greatnorthrun.enthuse.com/pf/roxy-harrop-thompson-f3400?utm_source=EnthuseSendGrid&utm_medium=Email&utm_campaign=website