Paralympic champion Denise Ross knows what it takes to overcome adversity and has the medals to prove it!
Denise went blind at just 18 years of age but still went on to compete at two Paralympics, two World Championships and five European Championships, winning gold in the discus and silver in the shot put at Seoul 1988 and bronze in the discus at Barcelona in 1992.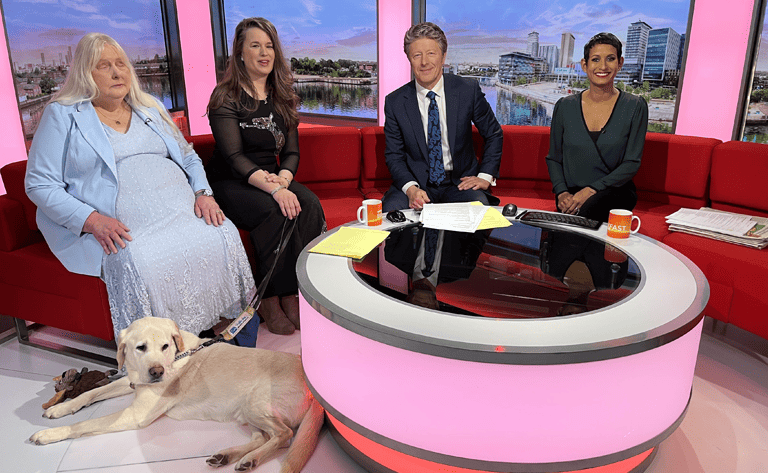 But even Denise's inspirational powers of positivity were rocked when her 10-year-old guide dog Sherpa was diagnosed with cancer.
Denise, from Thornaby, North Yorkshire, admitted: "Sherpa means the world to me. He is my freedom, my independence, my closest companion.
"I've had him since he was two years old and we're so close. Having him means I can go out when I want, do what I want and whenever I want.
"He's a real pick-me-up, too. On the rare occasion when I'm in a bad mood, we go out for a walk and I come back feeling champion again."
Denise certainly wasn't feeling champion when she discovered a lump on Sherpa's right hind leg while she was grooming him.
That was in October 2021 and she was immediately concerned, however, had no idea Sherpa's battle to recover would take more than a year.
Denise added: "At first, it was the size of a pea but a few weeks later it was 10 times bigger and the alarm bells were ringing.
"My local vets took a sample and sent if off for analysis which came back inconclusive but they still thought it would be wise to remove it and I agreed.
"Afterwards, though, it turned out the cancer had not been entirely removed with margins of healthy tissue, and were worried it could come back.
"That's when they referred me to Wear Referrals for specialist care."
Anna Cronin, a specialist in small animal surgery at Wear Referrals, took charge of the case, which turned out to be a malignant soft tissue sarcoma.
Sherpa's leg and chest were scanned before Anna operated to successfully remove further tissue around the problem area. This left little skin to repair the defect with and, as Sherpa moved, some of the stiches came apart. It was a month before Sherpa was allowed home – albeit not for long.
Denise explained: "Sherpa had a protective cone around his head but he somehow managed to get at the wound and a friend took some photos and sent them to Anna.
"She wanted him straight back at Wear so she could repair the damage and this time he was in for five weeks.
"Happily, he's all fine now, back to his normal self and as lively as ever. I'm so grateful. Anna and the team at Wear were absolutely brilliant."
Richard Huggins, from the Guide Dogs for the Blind Association, has helped support Denise and Sherpa, through the past 12 months and is delighted to see the Golden Retriever/Labrador cross back home and back at work.
Richard said: "Wear Referrals were absolutely fantastic throughout Sherpa's treatment; he spent long periods of time as an inpatient and the care he was given by Anna and the nurses was outstanding during a very difficult time.
"This was evident as every time he returned, he was very excited to see everyone. I have never seen a dog be so happy and eager to enter a vet's practice.
"I'd recommend Wear without a moment's hesitation. The staff and facilities are excellent, it is obvious they really care for both the animals and their owners and do their very best to make the treatment process as stress free as possible."
Sherpa's story featured in the 10-part BBC One series 24/7 Pet Hospital, which followed the team at Wear as they provided vital treatment to a range of patients. To watch the series, visit the BBC iPlayer here https://www.bbc.co.uk/programmes/m001hzrn.