A determined French bulldog who was given only a 50 per cent chance of walking again after a severe spinal injury is back on all four paws thanks to Wear Referrals.
Two-year-old Pepper was given the life-changing surgery and extensive aftercare treatment, including hydrotherapy on an underwater treadmill.
Pepper's dog walker had first noticed the beloved family pet "wasn't right" and becoming progressively wobbly on her hindlimbs.
She was initially taken to local vets, by which time Pepper was unable to use her back legs at all, before being referred to us here at Wear Referrals.
Our team carried out an MRI scan and neurological examination which confirmed severe spinal damage, caused by a slipped disc and haemorrhaging from ruptured blood vessels.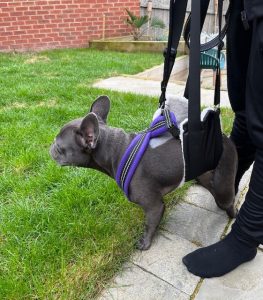 Pepper's worried owner, Lucy Addison from Middlesbrough, said: "Pepper wasn't doing anything that could have caused the slipped disc, it happened completely out of the blue.
"We were shocked and very upset, plus the surgery sounded very complicated. It was a 50/50 chance she'd ever walk again but we had to give Pepper the best possible chance.
"We are so happy the operation was a complete success. The team at Wear have been absolutely exceptional and Pepper's quality of life is now amazing, far beyond what we'd hoped for.
"She can walk, run, play, and enjoy everything she did before the surgery, although we have had to adapt some things at home to help her."
Alessia Colverde, a European Specialist in veterinary neurology and a lead vet at Wear Referrals, said: "Pepper's determination to walk and run again is inspirational.
"She underwent a lengthy spinal decompression operation followed by hydrotherapy sessions, which were built up in frequency and length over time, on our underwater treadmill.
"Our rehabilitation team, including veterinary hydrotherapist Lynne Burdis, have been amazing and it's fantastic to see Pepper is now leading a full and happy life, walking, running and playing, albeit with her own style of walking."
Wear hydrotherapist Lynne said: "Initially, Pepper had to be fully supported and hydrotherapy work involved reminding her brain where her back legs were.
"By the second session, Pepper was consciously trying to move her legs and by the fourth session she was able to walk in the water without support for 10 seconds.
"We then started frequent hydrotherapy sessions to maintain her muscle strength, and to improve her motion and walking functionality."
Pepper's treatment and recovery was part of 24/7 Pet Hospital, a fly-on-the-wall BBC One series which charted the often-lifesaving work of the team at Wear Referrals. To view the series, visit https://www.bbc.co.uk/programmes/m001hzrn.