With bonfire night and Diwali already ticked off on the calendar, fireworks season is well under way.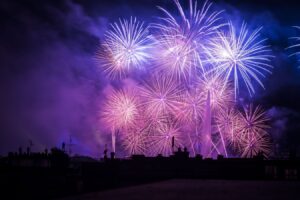 With large-scale events already scrapped this year due to the coronavirus pandemic, it is likely traditional New Year's Eve displays will also be unable to go ahead, meaning many more small-scale household fireworks are likely.
Fireworks season, which encompasses bonfire night, Diwali, Christmas and New Year's Eve, is identified as a period which can cause stress for pets and, in turn, an anxious time for owners.
Ben Harris, clinical director here at Wear Referrals, said: "This is a challenging time of year for pet owners, as there are so many potential triggers of stress in animals.
"There are the bangs of fireworks and the hectic festive season – including unfamiliar faces and smells and a change of routine. This year with public events largely unable to go ahead, we could well see many more small-scale displays closer to home.
"All of these can cause stress for pets and, while some owners will seek guidance or have experience of supporting their pets, there will also be those who haven't been through this before.
"Pet ownership has dramatically increased throughout the Covid-19 pandemic, so supporting pets through the potential stress of fireworks season will be a new experience for many people.
"There are numerous ways pet owners can help their animals cope with the stress of fireworks. The most useful approach may be to prepare them to loud bangs by using sound therapy and there are many available resources available to help desensitise your pet to loud noise.
"Distractions such as playing with them and playing masking background sounds can also be helpful. Some pets will also benefit from having a den to hide in.
"However, one of our top recommendations for pet owners is to remain calm. While it may be tempting to comfort a spooked cat or dog, this can actually be counter-productive.
"If owners appear to be unaffected, pets will feel more secure and confident. Pets could also benefit from pheromone diffusers (for example, Adaptil for dogs or Feliway for cats) and nutritional supplements.
"Finally, if there is marked noise phobia then discussion with a local veterinarian about whether any prescription medications may be helpful and discussion with an animal behaviourist to help with firework phobia at other times of the year are advisable."
Our advice to dog owners:
• Walk your dog before dark – make sure your dog is well exercised and has had a toilet break before the fireworks begin
• Feed your dog before the fireworks begin as they may become unsettled and not want to eat during the fireworks
• Make sure your house and garden are secure during the fireworks as fear may make your dog try to escape
• Try to settle your dog before the fireworks start – if your dog is in familiar safe surroundings it will help them cope with the noise
• Provide a safe hiding place – make sure your dog has somewhere safe in their favourite room, perhaps under a table
• Close curtains, turn lights on, and turn up the volume on your TV or radio to drown out firework noises and flashing lights