A newly-appointed specialist, here at the North East's leading small animal hospital has spoken of his excitement at working with one of the world's best orthopaedic surgeons.
Francisco Silveira, a European specialist in small animal surgery, has joined the team here at Wear Referrals, in Bradbury, County Durham, where he is thrilled to be working alongside the referral centre's renowned head of orthopaedics Neil Burton.
Neil, who is a Fellow of the Royal College of Veterinary Surgeons, is a globally-recognised expert in the field of joint replacements in small animals and Francisco is keen to learn all he can from his new colleague.
He said: "I am particularly excited about the opportunity to work closely with Neil, one of the few surgeons in the world who can operate with hip, stifle, elbow and talocrural joint replacement systems.
"I will initially be focusing on a combination of soft tissue and orthopaedic surgery, with a strong bias towards my preferred field, which is orthopaedics.
"However, I am very keen to develop in all aspects of small animal surgery, particularly in the use of joint replacement systems in small animals.
"I am really looking forward to growing as a surgeon and as an individual, as I feel these are intertwined."
Francisco studied at the University of Lisbon, in his native Portugal, where he graduated in 2013.
He moved to the UK shortly afterwards to pursue a career in small animal surgery and his first position was in a primary care practice in East Yorkshire.
Francisco soon gained a general internship at the highly-respected Linnaeus practice, Dick White Referrals (DWR) in Cambridge, which is one of the largest specialist veterinary centres in Europe.
After completing his internship, he stayed on at DWR as a resident in small animal surgery, and on completing the residency he moved to the University of Edinburgh as a lecturer in orthopaedic surgery.
Francisco added: "It was during this time that I attained my European Diploma in small animal and now, just over a year later, I am delighted to have joined Wear Referrals."
Away from his veterinary duties, Francisco enjoys studying medieval history, travelling, gardening, fly fishing, keeping fit and watching football and rugby.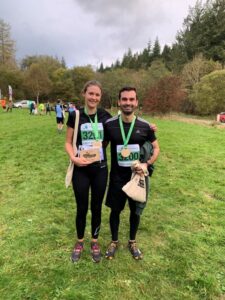 He and his wife are keen hikers, too, regularly exploring their new North East surroundings with their border collie, Fly.