A freak accident in a field was the start of a traumatic six months of pain and frustration for an unlucky German Shepherd called Jasmine.
She was hurt when another German Shepherd jumped and fell on top of her, leaving Jasmine needing two operations, a double course of intensive hydrotherapy treatment and controlled convalescence.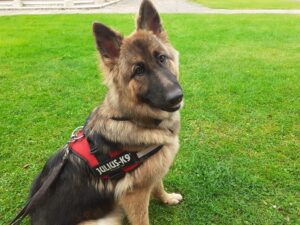 Now, she's finally back to her best again and her owners are full of praise for the team here at Wear Referrals, saluting their expert care and treatment which helped nurse Jasmine back to full health.
Paul Slade, from Redcar, Cleveland, said: "Our girl Jasmine has been through a very tough six months following a freak accident.
"She was playing with another German Shepherd which was running around catching bubbles when she came down on top of Jasmine, causing her to cry out in pain. Then, suddenly Jasmine couldn't put weight on her front leg.
"We went our local vets in Redcar and they referred us to Wear Referrals, where we were met by some very kind and caring vets, especially Maciej Krukowski who was brilliant."
Orthopaedic surgeon Maciej said: "Jasmine had suffered a shoulder injury which had resulted in a 50 per cent torn shoulder muscle and a completely torn ligament.
"She needed a left shoulder arthroscopy, as well as shoulder stabilisation to repair the damage.
"To stabilise the shoulder, Jasmine had a 3.5mm bone tunnel drilled in the point of her shoulder blade and a second tunnel drilled in her humerus (the long bone of the front leg).
"We also inserted toggles through the holes in these two shoulder articulation bones to stabilise the movement of the joint.
"Jasmine then began her first hydrotherapy rehabilitation session seven weeks after surgery.
"The plan was to restore muscle function, improve muscle mass and help Jasmine achieve a good range of motion on the surgical limb and restore the leg to full functionality."
It didn't quite go to plan, however, as Wear's expert hydrotherapist Lynne Burdis explained.
Lynne, who is one of only six people in the UK to be qualified as an advanced veterinary hydrotherapist, said: "Jasmine was moving very well on her forelimbs after her shoulder surgery but that first session highlighted an altered stride on her hindlimbs.
"There were also indications of muscle loss and she appeared uncomfortable through her hindlimbs. A closer examination confirmed Jasmine had a hip issue which was causing her discomfort, exercise intolerance and pain."
Maciej advised a total hip replacement followed by two months of rest, recuperation and recovery at home before a return to Lynne for further hydrotherapy.
She added: "After her two surgeries, Jasmine exhibited a muscular imbalance due to compensatory off-loading.
"We designed a specific programme for Jasmine to help her regain and maintain her muscle strength, range of motion and to help improve her movement function.
"Our ethos is always to 'work with the patient, not on the patient' and Jasmine responded well. She was a pleasure to work with and very quickly adapted to the hydrotherapy programme.
"She had 11 sessions in total, five following her shoulder surgery and a further six sessions since her Total Hip Replacement, and Jasmine's progress has been remarkable.
"She has been the perfect patient throughout and with the excellent aftercare by her owners she has made a terrific recovery and can now go on to enjoy her life doing what dogs do!"
Paul added: "Maciej's name is actually pronounced 'magic' and he certainly lived up to that! We're so grateful to him and the very lovely Lynne.
"It's been a tough time for Jasmine and for us. After each surgery, she had to be confined and restricted for six to eight weeks followed by six weeks of hydrotherapy with the very lovely Lynne.
"When Lynne noticed Jasmine's back legs were struggling to keep up with the front legs and we were told it was hip dysplasia we were devastated.
"So, once again, Maciej had to operate and poor Jasmine was confined to a small area for another six weeks before re-starting her hydrotherapy.
"But it was all worth it. The vets are delighted with her recovery and healing and she's now back to full fitness and enjoying life again. We're so happy and thankful because we love her to bits – she's our world!"