Some of our team here at Wear have put their best feet forward to tackle a gruelling hike and raise almost £3,000 for charity.
Nine members of our team took on Trek 26 a couple of weekends ago, hiking 26 miles around Ullswater lake in the Lake District, in aid of the Alzheimer's Society.
In completing the marathon effort across tough terrain, the Wear team has so far raised just over £2,800 for the Alzheimer's Society, a national charity which helps support those affected by dementia.
Darren Stubbs, hospital director at Wear Referrals, which is part of Linnaeus, said the group was delighted to have completed the walk and raised so much money for charity.
He said: "In these difficult times, it was a very well organised event with regard to safety precautions and distancing, while we all made our way to Ullswater separately before taking on the walk.
"There's no doubt that Trek 26 was a tough challenge but we were also treated to some stunning views around Ullswater, which helped us on our way to completing the trek.
"Everyone who took part had a personal reason for doing so and we're all happy to have been able to raise so much money for the Alzheimer's Society, a charity which does so much good work and which we were delighted to support.
"We are still hoping to just tip over that magic £3,000 mark. That would be a superb effort and we all thank those who have donated to the cause."
The Wear walkers were Darren Stubbs, Jess Bacon, Chiara Trimble, Kayleigh Briggs and her partner Adam, Maren Junior, Toby Trimble, Olivia Yates and former team member Helen Wareing.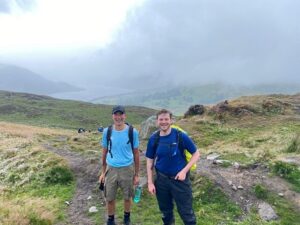 There is still time to donate to Wear Referrals' JustGiving page. To donate, visit https://www.justgiving.com/team/Wear.